5 Ways to Raise Adventurous Kids
The Go Wild Go West blog
5 Ways to Raise Adventurous Kids
Raising adventurous kids is a blessing and a curse.
On a recent walk, my two boys made a secret plan. They ran off enthusiastically and disappeared into the woods. I didn't see them for a long time, a little too long for comfort. I ventured after them, following the giggles and stifled laughter. My heart raced as I looked up to find them perched precariously hiiiiiigh up in the trees, waving down – beaming.
'Ummmmmmm', I said, 'make sure you're careful.' And I turned and walked away (lingering just out of sight). My instincts screamed 'GET DOWN' whilst my reason told me they were safe. They know how to climb, they know to test for dead branches and of course, they know not to let go.
Kids and adventure
I imagine most parents have faced a similar dilemma when their kids start to take risks – to adventure, to test themselves and explore independence. It's tricky for us, but having these opportunities is crucial for our kids in so many ways. Developing risk awareness, self-awareness, confidence, resilience and a love for the outdoors.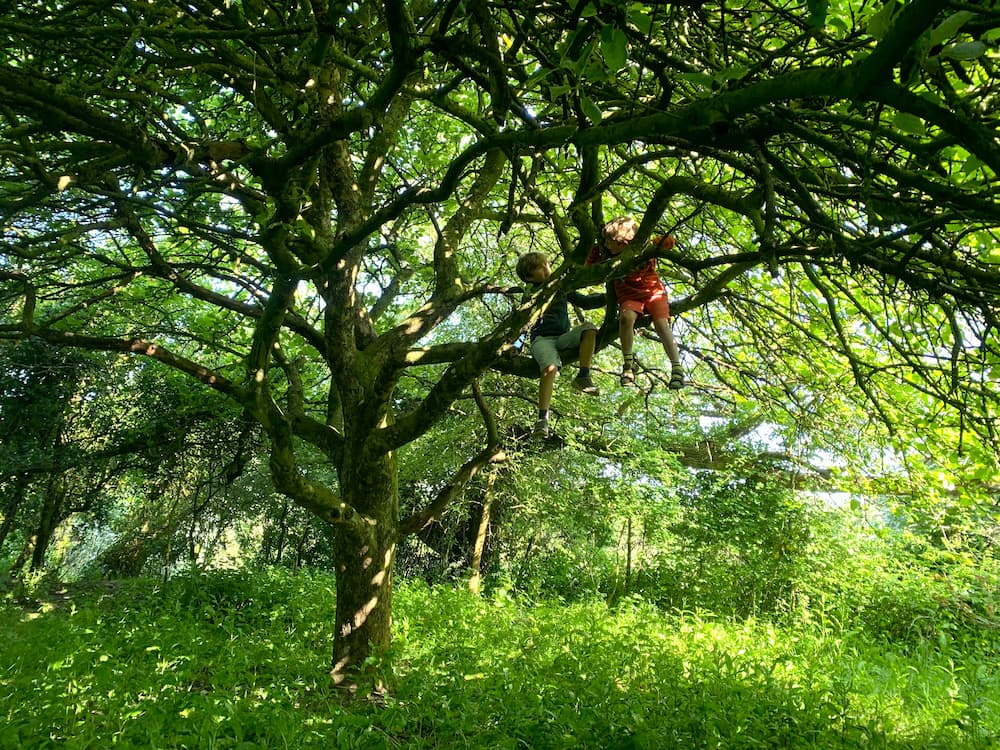 Raising adventurous kids
Over the last 10 years, I've raised my children adventurously. Partly to help their personal development, partly because I like adventures and wanted my kids to come too….
The result? We've had some awesome times together. And as they get older and become more independent, I can see them as healthy, awesome, confident, hardy, adventurous, fun-loving humans- I certainly can't take all the credit for this, but I'll take a bit.
How to raise adventurous kids
But what does raising kids adventurously mean? And how do you do it?
Here are my top tips for raising adventurous children;
1. Introducing Independence
Independence is a tricky thing. Kids used to walk miles to school alone. They used to get kicked out of the house in the morning and told not to come back until dinner time. When did all that change?
I'm definitely not recommending that we banish our children for the day (though sometimes I'd like to), but we could find a better balance.
Giving them the freedom and space to explore at their own pace and direction will encourage their independence.
A few adventure ideas for kids;
Mini-Navigators
Let them plot their own adventure and guide you along the way. Can they plan a route on a map? Or do they have a favourite place to visit so they can plan a trip there and be responsible for choosing where to go, what snacks to take etc?


Local Adventures
Let them climb trees, scramble on rocks, leap, jump, cartwheel, splash in puddles, roll down muddy hills, balance on tree trunks – all that good stuff. You can slowly limit your own supervision as their confidence and awareness grows.


Garden Camping
Let them create their own camping adventure. It may be a solo or sibling sleepover in the tent in the garden or perhaps they'll invite you to join them. Whatever level they're at… this can be their own adventure. Older kids could have a wild camp locally for their own epic adventure!
2. Risky Business
Risk is considered to be a really negative word these days. Risk assessments are the bane of my life… But a healthy awareness of risk is really beneficial for kids. They'll face various risks throughout their lives and it's great to start building out some resilience when they're young so they can better manage them.
There are some easy ways to start introducing risk, and then allow them increasing independence managing risks as they get older.
Here are a few of our favourite 'risky business' adventures;
Playing with fire
Learning about fire and having a healthy respect for it is really important for kids, but having a fire is also really fun! Campfires, making fire, burning sticks, cooking bannocks; kids love it.

There are great tips here on how to make a fire with kids. We have a campfire popcorn maker which is 100 times better than marshmallows… They'll learn about fire safety from you and the more campfires you have, the better awareness they'll build.
Whittling
People say kids and knives don't mix. Yes, this is true. HOWEVER, if children are taught how to safely use a knife, they're far less likely to have an accident. A great way to do this is whittling. We have Mora pro-safe whittling knife which are sharp, but designed for beginners.

Over the years, we've whittled spoons, animals, elves, endless weapons and even a wooden version of Pass the Pigs. Here are some great tips for whittling with kids.

Coasteering
The more adventures we've had, the more adventurous the kids have become… They're now complete adrenaline junkies. One of their favourite activities is coasteering – jumping off rocks and cliffs into the water, and it's an awesome family activity on holiday.

Obviously, this comes with risk. But it's a chance to teach them about water depth and how to test it, tides, waves, riptides, currents – all sorts of things they need to be aware of. Now, we ask them to work out the risk of each jump spot.
3. Healthy Habits
The biggest thing I hear from parents is that the kids moan and groan about going outdoors. Don't get me wrong, kids will always moan and groan when asked to do something, but habit is a big advantage here. They don't need to have been adventuring since day dot to get started, but if you want them to grow an adventurous spirit, it helps to be doing it regularly!
Getting kids outdoors
Our kids walk every day. We have dogs and walks have always been a daily routine. We cycle to school every day, regardless of weather. Now, they don't question it – because why would they? We do it every day! Interestingly, they also now recognise that being outdoors makes them feel better.
Everyday adventure ideas for kids;
Play the number game
If the kids are grumpy, upset or just irritable, we'll generally go outdoors for a while. I ask them how they're feeling (on a scale of 1 to 10) before we go. I then ask them the same question when we get back. Without fail, they feel much much better after they've been out and this game helps them recognise that.
Make it fun – Mini-Adventures
I quickly learnt that going for a walk everyday was boring for the kids….. instead, we would go on an adventure, a mission or a challenge! Finding sticks for whittling, looking for animal tracks or hunting for mini beasts is way more fun. Over time, I created a collection of our favourite 'mini-adventures' and then designed a series of Outdoor Adventure Guides to make mini-adventuring easier for everyone.
4. Be an adventurous parent
This is the best part…. Raising adventurous kids requires having open minded parents! I definitely wasn't always 'adventurous'; definitely not, I didn't camp until I was in my late twenties, never even contemplated mountain biking, and, being scared of heights I would never have DREAMED of jumping off a cliff into the sea. But as I've challenged myself more – I've done more and I'm hooked. And the kids have watched this and joined in the fun!
The children take their cues from us from the day they're born. That means that we need to dive head first into adventure and encourage them too. Biking, walking, wild swimming, camping, climbing, jumping… if you give it a go, they'll also want to and you'll have loads of fun together.
How to be an adventurous parent;
Challenge yourself
If you want to adventure more – do it! By yourself, with your other half, with friends, with the kids. Find out more about plotting your own adventure, maybe even a challenge, and just roll with it!
Wild camping
We love having a wild camping adventure. Whether you're sleeping in bivvy bags in the garden or heading out for a night or two in the wilderness; have a go at wild camping.
Youth hostelling
Have you been to a youth hostel recently? When hostels were first mentioned to me, I had flashbacks of grim school field trips, staying in grotty bunkrooms.

But this isn't how youth hostels are now! As a family, you can book a private family room for an extremely affordable price in amazing places – often on the coast path. Hostels are generally located in wild or 'outdoorsy' places where you can walk or bike directly from them. They're open year-round so when the camping season is done, you can still go away for an affordable holiday.

Book yourselves an awesome adventure weekend in a hostel.
5. Say no to screens
Because there's way more fun to be had…..