Wild Swimming Walking Group, Bristol & Bath
The Go Wild Go West blog
Wild Swimming Walking Group, Bristol & Bath
Are you keen to dip your toe into wild swimming but aren't sure how? Maybe you're a wild swim pro who's looking for new places to swim in Somerset, near Bristol and Bath? Or perhaps you'd like to find other people to swim with?
The good news is that I'm currently running a series of Wild Swim Walks, all within 1 hour of Bristol and Bath. Interested to know more? Read on…
Where can I wild swim near me?
It's a good question. Bristol and Bath are surrounded by beautiful rivers but it can be hard to know where and how to access the water for a swim or paddle. Knowing where is safe to swim can be tricky too.
The good news is that I'm currently writing a book filled with wild swimming walks near Bristol and Bath. Combining two of my favourite things, swimming and walking, the book will be filled with routes and ideas for finding wild swimming spots from Somerset to Wales to Wiltshire (and a few other inbetween!)
Some spots are well known, whilst others are hidden and more discreet. Through the book I hope to share my love for wild swimming and walking in this beautiful area and encourage people to get out and give wild swimming a go! After all, wild swimming and having access to our rivers is very good for us and we should do it more often!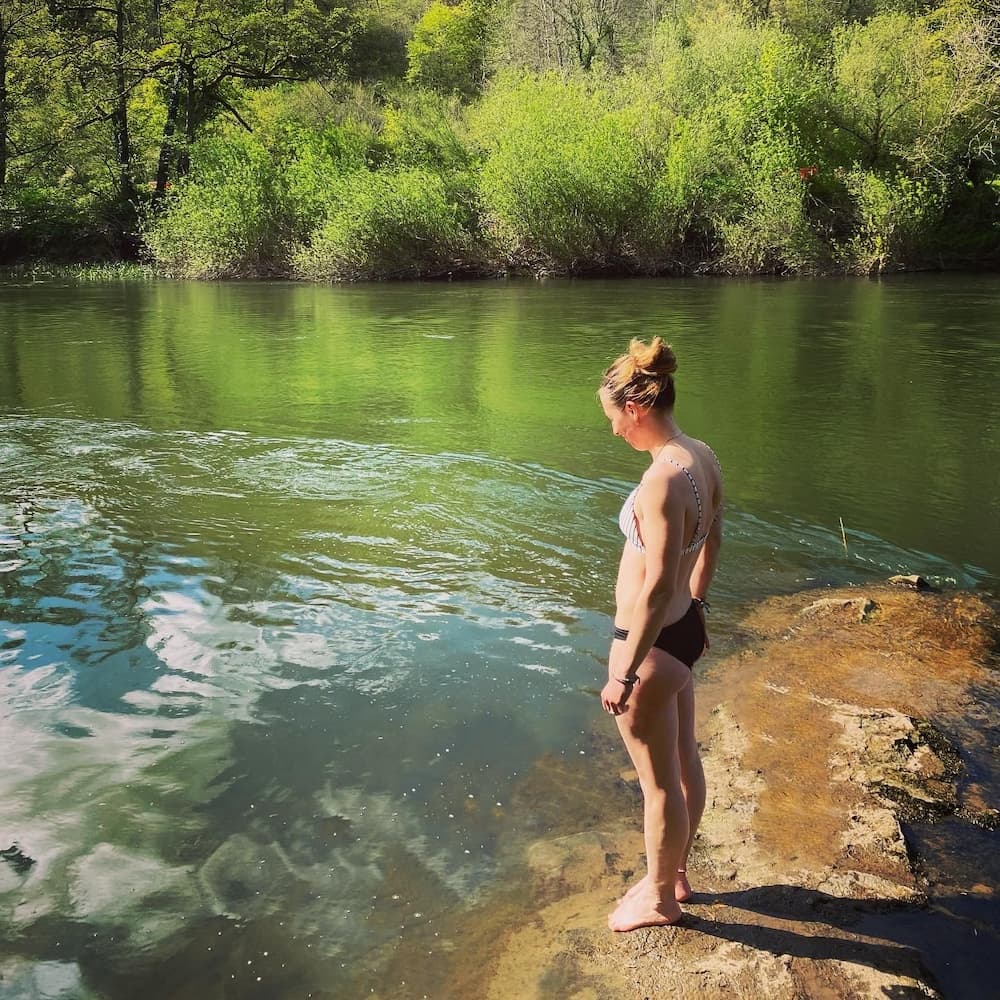 Join our Wild Swimming walking group!
In the name of book research (and for a bit of fun), I wanted to draw together a group of wild swimming enthusiasts, from beginners to pros. Together, we have been exploring the local landscape and enjoying some fantastic swims.
We've dived into the River Frome; paddled in the Avon; navigated the Brue; wallowed in the Parrett; and basked in the Wye. There's been numerous squealing, huffing and puffing getting in to the water (that's inevitable right?) but also a lot of laughter. Come and join us!
Wild Swimming Walks
Dates for the spring/summer series are as follows;
Sunday 28th May – Baltonsborough
Thursday 15th June – Lacock Abbey
Friday 30th June – Symonds Yat
Friday 7th July – Dundas Aqueduct
Satursday 15th July – Muchelney Abbey
The walks have been very popular so are currently sold out. Please contact me and I'd be happy to add you to the waiting list.
I'll be running a second series in autumn so watch this space.
Please follow along on Facebook and Instagram for more details. Alternatively, sign up for the Go Wild Go West newsletter for up-to-date news on the wild swimming walks series.
Where can I go wild swimming near Bristol and Bath?
If you can't join us or missed the chance to book on, why not make your own expedition?
Here are some great places to wild swim in Somerset, and extra ideas for cold water swimming.
Alternatively, try to find your own secret wild swimming spot away from the crowds.